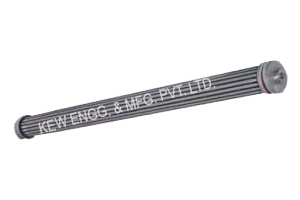 We have been manufacturing and exporting Slat Expander Roll from last 25 years in India. All our slat expander rolls available in different diameters with premium quality and suitable for slow speed machines.
Our engineers have designed per clients requirement for coating machines, batching machine, and many more. We Aluminum Slat Expanders are used for wrinkle removing on coating machines which is available in any length and standard diameter 6-. Bigger diameter can be made as per specific requirements.
Normally plain surface is provided but some applications serration is required on surface for gripping. While ordering should provide the application temperature, web material, plain or serration required on surface, maximum speed of web material to meet all your requirements. For soundless working the Rubber Roller are also available with ball bearing type cam mechanism also. Normal expansion is 25mm.
Slat Expander Roll
Diameter of Metal Expander Roll available:
6-, 8-, 12-
Length: up to 3000 mm
Single Acting Bow Roll
Double Acting Bow Roll
The Performance of our Banana Roller depends upon the following points:
Wrap angle
Lead-in & Lead-out distance
Position of bow (Adjustable)
In this, 3:1 (lead-in: lead-out) ratio is considered to be the perfect. The best results are attained when Bow Roller is perpendicular to the web direction.
Advantages of our Bow Roll are:
Control Slack Edges
Remove wrinkles
Separate slit webs on winder
Eliminate baggy center
Try to even out lateral tension across the web width
Used in Different Industries : Industries Like Paper, Tyrecord, Plastic Packaging, Woven Sacks, Pharmaceuticals, Leather, Textile, Plywood, Sheet Line Material Handling and many more.
Our equipments are used for following Applications:
Rewinding – Converting, Textile, Paper, Tire
Unwinding – Converting, Textile, Paper, Tire
Marking, Coding and Printing Applications
Slitting – Any type of Laminate
Packaging
Wrapping
Printing – Converting and Textile
Tracking
Controlling Tension & Edge of Laminate / Fabric.
Roller used in Different Machines for Plastic Industry
Printing Machine Flexible Printing Machine
Flexo Machine
Lamination Machine
Graver Machine
Scaling Machine
Pipe Plant
Winding Unwinding Machine
Offset Printing
Box Strapping Machine
Roller used in Different Machines for Textile Industry
Stenter Machine
Jigger Machine
Rotary Machine
Dyeing Machine
Calender Machine
Mangle Machine
Loop Steamer